What is a greaseproof paper?

How many times have you found yourself sitting at a restaurant table and seeing the greasy bottle of oil right in front of you, with the sign of the oil drops on the label? The current Italian Community legislation provides that in restaurants it is no longer possible to put unlabeled oil bottles on the table. This leads to an important problem. The restaurateurs, despite the bottle of oil being cleaned, do not have the possibility to remove the grease marks on the label. Consequently, the oil bottles become ugly and the manufacturer's efforts to make the product beautiful as well as good are completely nullified. For this reason, greaseproof papers were born. Stop to oil drops on your label! If you produce oil or food specialties you need this..
In which case should we use oil-resistant papers?
Greaseproof papers are specifically designed to label products such as oil and all those foodstuffs characterized by fatty or oily substances which, due to their leakage, can permanently stain the label. However, we must not focus only on the food world. Cosmetic products also have the same problem.
This type of products in fact require a label that is drop-proof. Until a few years ago, the only solution was to use dark backgrounds or a lamination on the entire label to mask and avoid grease marks. These solutions are obviously not suitable for natural and genuine products such as an artisanal oil or a premium cosmetic product.
In this specific case it would be preferable to use high-quality papers, perhaps natural ones capable of guaranteeing an aesthetic and quality result. For this reason, many paper producers, including the industry leader
Arconvert
, have decided to develop a range of
greaseproof papers
.
Let's see specifically how these greaseproof papers differ from the others.
What are greaseproof papers?
Greaseproof papers need extra protection, creating a barrier thanks to a special stain-resistant treatment called Greaseproof.
Specifically, the
Arconvert
company has created a series of greaseproof papers called
"The Immaculate Papers"
, the innovative range of 100% stain-resistant self-adhesive papers.
These papers, unlike many others on the market, not only have a protective film on the surface but the oil-resistant treatment has been inserted inside the paper mixture.
This range of greaseproof papers was designed specifically for the oil market and especially for olive oil, which in recent years has continuously raised the quality standards, also from the point of view of the image and packaging, becoming an high-end product.
These papers are all 100% pure natural cellulose, eco-sustainable and stain-resistant and suitable to be embellished with ennoblements to make the product more and more exclusive.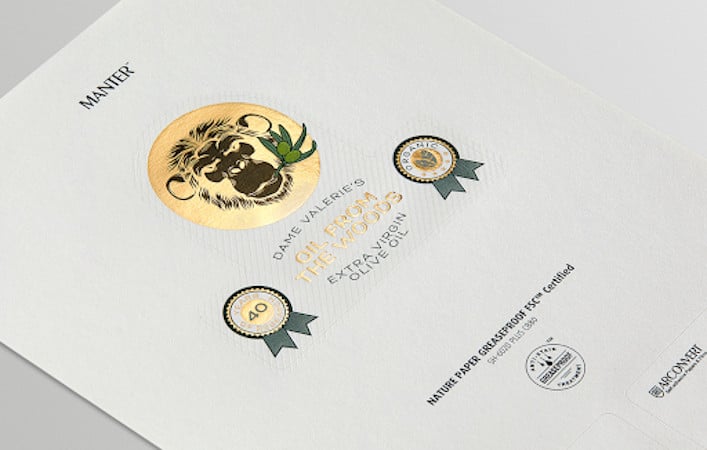 Which greaseproof papers can I choose?
Arconvert has introduced nine self-adhesive greaseproof papers: a range of excellent papers that maintain the immaculate image of the best extra virgin olive oil products while maintaining the importance of the typical tactile element of paper.
It is possible to choose:
- white or ivory natural marked papers such as Tintoretto Gesso Greaseproof and Tintoretto Ivory Greaseproof
- natural paper such as Nature Paper Greaseproof
- pearl paper such as Tintoretto Pearl Greaseproof
- white or ivory laid papers such as Laid Corolla White Greaseproof and Laid Corolla Ivory Greaseproof
- embossed paper such as Constellation Snow Vergata Greaseproof
- coated papers such as Coated Greaseproof
As you can see, the choice is wide and it depends only on your imagination or that of your designer. The important thing is that your image will remain intact and drop-proof.
To find out more about which greaseproof paper to choose, contact our team of experts.
---