Brand Awareness: 8 ways to increase it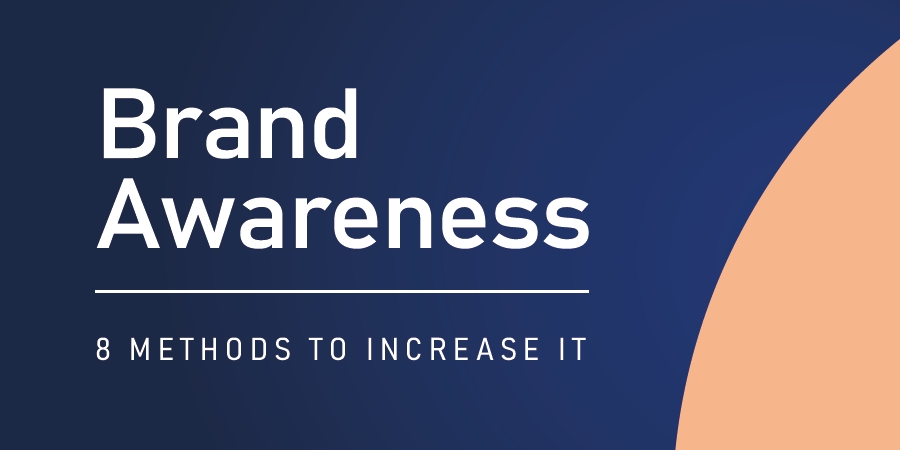 The term brand awareness indicates the level of notoriety of a brand or the ability of consumers to recognise and remember that specific brand. Building and increasing your brand awareness is essential for making your business successful. It takes time, constant effort and a lot of patience, but it's worth it!
In the last article, we introduced the concept of " brand awareness" by explaining what it is and how important it is for any brand or company. Today instead, we will see together 8 tips to increase brand awareness, which will help you put your brand in the spotlight, thus allowing you to grow your business.
---
# 1. Effective Brand Identity: use consistent branding
Brand identity is how the company presents itself to consumers through elements such as name, logo, colours, fonts, images that must precisely be coordinated or aligned. The brand identity is, in essence, how the company wants to be perceived by its target and this "coherence" indeed represents one of the main aspects to increase brand awareness.
If everything is coordinated, the consumer will be able to more or less subconsciously identify your product, among many others. The colours, fonts and style that you attribute to your brand will conquer his mind and make sure to remember you.
---
Identifying and knowing your target is extremely important to build a brand strategy that attracts the right customers, allowing them to remember you. Having a target audience is necessary to attract genuinely interested potential customers and not large consumers who will never buy.
Today, most consumers now believe that brands should care more about their customers' needs. Investing in the knowledge of your target helps to understand how you can improve the brand and how you can better serve the consumer.
It may also be helpful to address your audience directly through surveys to make them participate, allowing them to contribute in the first person. The customer, feeling more part of the brand, can more easily identify with it. Lack of knowledge and communication with your target audience could damage brand awareness more than help increase it.
---
# 3. Optimise your website and take advantage of search engines
Nowadays, being present and knowing how to enhance your online image is essential. Therefore it is also necessary to own a website, to allow the consumer to find a specific business through search engines. The website represents one of the most used communication channels, both by brands as a presentation "counter" and consumers as an information search tool.
Owning a website in the consumer's eye represents a confirmation of the brand's reliability. The simple fact of being present on the web gives the impression of being an existing, structured, and modern reality. For this reason, investing in your website and knowing how to optimise it contributes to increasing awareness of your brand.
Having a website, however, is not enough. At this point, it is necessary to make it visible on search engines. People trust Google, and they know that it offers relevant and quality results, and if you manage to position yourself among the first search results, this trust will also be transferred to the brands shown on the front page. To improve your brand's visibility on search engines, you must first understand the Google algorithm and the importance of links. Building accurate and valid links will allow you to get a higher ranking in the search results.
Links are fundamental components, both in terms of visibility on search engines and brand awareness. Building a network of authentic and valid links with your website will allow your site to stand out in the search results. The links also represent a " vote of confidence" since by placing a link on your website, we are telling other users that we trust that brand and the products or services it offers.
---
Creating and sharing content relevant to your brand or the products/services offered is a great way to attract new customers and increase brand awareness. Producing lots of content, textual (blog articles, posts) or visuals (videos, images, etc.) will make it easier for potential consumers to find you among the many search results when looking for a service or product they need and you offer.
Publishing content is probably one of the most effective approaches to increasing brand awareness of your brand. Talk about what you do, explore the products or services you offer and find exciting topics related to them. By doing so, you will provide your audience with functional, and above all free, material to support their needs.
---
I don't need to tell you how indispensable social media is in marketing and brand awareness. They represent one of the best resources to use to leave a memory in the consumer's mind and be an excellent counter in terms of visibility. We need a separate chapter just for this topic.
Create a page of your business on social platforms such as Facebook, LinkedIn, Instagram, etc. Knowing how to manage it correctly will allow your brand to make a qualitative leap by ensuring that users understand what you do and your strengths. You need to make your brand special in the eyes of consumers, and social media are a great way to do this.
Users on social networks share content that interests them daily; the more you post, the more you will impress them, and the more they will share and recommend your product and service. Create a community and keep it constantly updated with content sharing through posts, updates, etc. Get involved, ask your audience to have their say, answer their questions, and provide all the information they need. You'll be amazed how most of the sharing work your users will do directly.
Define a monthly plan of the contents to post to organise them practically and, above all, to give continuity to your publishing activity. Doing so will create hype in your followers who will be waiting for your new content every week. However, remember that it is essential to have a publication strategy aimed at a specific social platform. Different platforms require different approaches, so the publishing method must be platform-specific, or rather, the content can be the same, but the way to express it must be other.
Let me explain, Instagram works more on images, so if on Facebook and LinkedIn have a good copy is essential to create exciting content, it will be much more relevant to have a good picture on Instagram.
Speaking of images, I would like to tell you to use personalised pictures and not stock photos. They will be much more captivating and, therefore, attract many more potential customers.
---
# 6. Take advantage of P2P
For the uninitiated, P2P means Peer to Peer Marketing, a promotion technique in which customers are encouraged to promote a product or service to other potential customers. Doing so encourages their consumers to involve family, friends or colleagues in exchange for rewards. One of the most classic cases in which it occurs is the "Invite a friend", a strategy by which, by promoting a service or product to others, you receive something in exchange in the form of a discount or voucher from that supplier.
According to recent Google studies, the famous good old word of mouth is considered the most powerful means of influence in terms of brand authenticity. Today, people are more inclined to follow the advice of colleagues, friends, family and peers, rather than an advertisement. The contents that brands create lose their importance in the face of the opinion of someone we know or who has personally tried the product and/or service offered, to which we tend to give much more weight. Having consumers recommend your brand and product is a great way to increase brand awareness.
---
# 7. Partnership with other brands
Another piece of advice I would like to give you is to look for possible partners among your suppliers or companies that have similar interests and target audiences. Partnering with different brands, especially when starting your own business, can be exceptionally beneficial. Partners can prove to be excellent allies to increase your brand's visibility and contribute to brand awareness. Many well-known brands are partners for the same reason. A partnership adds value to the business of both brands.
"Partnerships are certainly significant [...]" Swave Szymczyk, worldwide head of retail and digital promotion at Adidas Originals, told MarketingWeek.com, "[...] As long as they are not just strategic, but reflect who we are as a brand and what we believe in really drive authenticity. "
Partnership marketing is a profitable and cost-effective way to increase brand awareness, acquire customers and grow. Once you have established partnerships, you can collaborate with these other brands to help each other, leverage the resources for marketing campaigns and content strategy, produce collaborative material, publish articles, make videos or perform podcast interviews.
---
# 8. Customized Packaging
The product experience never begins at first use but rather in the unboxing phase, so investing in good packaging is essential. It represents the
first point of contact
between the consumer and a brand and therefore represents a crucial moment in the user's choice. A good packaging solution contributes significantly to increasing the value of a product, captures the consumer's attention the most, and leads him to complete the purchase. If the packaging is of poor quality or otherwise anonymous, not customised, the customer's image will immediately suffer, so an unattractive design represents a wasted opportunity.
How companies present their brand and the story they tell through design and, in this case, the packaging can create an emotional connection with the consumer that is certainly more lasting than the product itself, which once used "vanishes".
Branded packaging with your brand enriches the customer experience and helps your business stand out from the competition. By doing so, the packaging represents an added value for your brand, and if you do a good job, consumers will recognise you through the packaging, even before they have seen the brand. To create your personalised labels and packaging entrusted to Labelado, design a suitable packaging solution with your brand. We will be happy to help you improve your brand awareness.
---
Building and increasing one's Brand Awareness is essential to ensure that one's business is booming; even if it requires time, constant effort and a lot of patience, I assure you it's worth it!
I hope this article has proved helpful for you and your business! To stay up to date, please join the Community! If you are interested in the topic, I leave you with the previous article on brand awareness in which we explained what it is and why it is so important.
---