What is offset printing?

Offset lithography is the principal method used to publish more runs of magazines, books, guides and brochures, direct-mail pieces, letterhead, posters, and paper-based labels and packaging.
Because of their fixed costs involved in establishing each task for offset printing, the price per unit of smaller runs will be higher compared to the price per unit of bigger batches of the same production. This is due to set up time.
The offset plates have been made so that fatty inks adhere only to the portions of the plate which contain the images and text. A thin film of water across the sterile regions of the plate repels the inks that are weathered.
The offset ink on the plates is transferred to a rubber-wrapped "blanket" cylinder.
Many offset presses used impression cylinders to apply pressure to the paper since the ink has been applied to the paper . Impression cylinders also help to move the sheets and rolls through the presses. The offset printing process requires making separate plates and blanket rollers for each color of ink which will be utilized.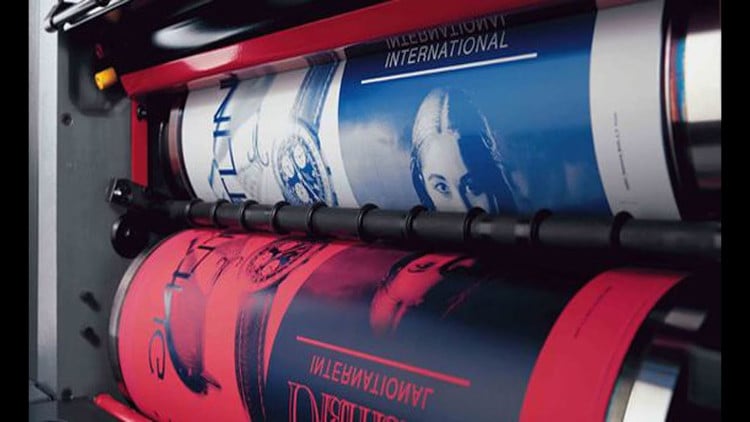 Macchine da stampa offset
There are many kinds of offset printing presses, divided into two big categories which include Web Presses and Sheetfed presses. The first includes all presses that print on paper and other materials in rolls while the second requires the paper to be cutted into separate sheets. Both of these offset presses can be used to produce labels, packaging, brochures and various other kinds of printed materials.
These offset presses automatically feed rolls of paper, which moves between ink station to receive the various layers of inks from the plates. Web presses are employed both in the "large format" printing such as for printing doypacks and bags and "narrow web" which is more suited for adhesive labels anb shrink sleeves.
This type of offset printing gear feeds flat sheets through the press. Sheetfed presses can handle a wider variety of substrate types and thicknesses compared to other presses. Grammage between 40gsm and 700 gsm and above can be reached depending on use. Carton boxes sheetfed printers will be more suited to print higher thicknesses of paper while regular offset sheetfed presses can handle various kinds on packaging from boxes to POS. Some of this machines are equipped with both traditional inks and UV Inks curing lamps, and also some mechanisms to automatically feed the machine sheets and turn the sheet so that it can be printed on both back and front.
Both available in web presses and sheet fed presses, these machines complete the rolls and sheets with special finishings. This includes creasing, die cutting, folding, glueing, hot foil, embossing etc.!
In front of a print job could visit an offset press on the webpage layouts created on a computer has to be separated by the kinds of inks that will be utilized to create every page.
For years, a photo-engraving procedure exposed color-separated movies onto photosensitive plates. Today, computer-to-plate (CTP) systems use digitally controlled laser printing approaches to etch the imaging information in electronic files on plates.
CTP systems have significantly decreased time and cost involved with establishing offset-printing tasks and creating last-minute alterations into the dishes. The prepress process for offset printing often includes more fancy proofing methods, for example imposition proofs that allow buyers to test that all of the layouts of a printed packaging will appear at the desired order.
I sistemi CTP hanno ridotto in modo significativo i tempi e i costi necessari per la creazione delle lastre da stampa offset permettendo anche modifiche e correzzioni dell'ultimo minuto.
A wide selection of inks can be purchased only for use with various types of offset presses.
Along with the four process colors (cyan, magenta, yellow, and black), media operators can use inks which match a client's specified Pantone new colors. UV and heat curing permit a wide range of special colors as Some offset inks utilize plant-derived oils such as soya oil to carry the pigment. Other inks utilize water-repellant fluids created out of synthetic chemical mixtures. . Polymer-based inks that treat when exposed to UV-LED mild are very popular since they allow owners of sheetfed presses to make instantly dry prints. They don't need to use heating or spray-on powders to hasten the on-press drying procedure. With correctly formulated UV-LED inks and the appropriate UV-LED curing components, sheetfed offset presses will print paperboards including packaging, non-porous synthetic sheets, foil-laminated sheets, plastic sheets, and a greater selection of cardboard and labels stocks.
As a result of innovations in offset inks and substrates, offset printing can print on a broad selection of textured and smooth papers, paperboards, tear-resistant synthetic papers, and various plastics used in gift cards, bags, packaging, and envelopes. Some of these specialty materials offered for offset printing include safety papers, carbonless papers for company forms, and metal-laminated papers with gold and silver foils.
Web offset presses largely print on the cheap coated and uncoated papers needed to control the costs of high quantities of labels. But these papers must be strong enough to withstand roll-to-roll high-speed printing. Specialty papers come in various types, both for web presses and sheetfed presses, it is always advised to talk with a paper supplier of interface directly with the design studio that is designing your packaging and labels to check together the paper catologues. There is a huge variety to choose from.
Offset printing is one of the many possible types of printing. What is important to know is that this type of printing is applicable to a series of various products and always guarantees a remarkable quality. To find out more or simply to evaluate your project, contact us. The Oppaca team is always at your disposal!
---