What does sustainable packaging really mean?

Packaging must become sustainable in terms of sustainability, therefore be produced with new and eco-friendly materials and perhaps designed to last longer through reuse. The future of packaging must be sustainable, and the circular economy must become our new regular!
However, one wonders, do we really know what is meant by sustainable packaging and when can it really be defined as such? Let's be clear!
---
The demand for sustainable packaging is constantly increasing; for this reason, brands and companies must keep pace to continue to be competitive and appreciated by consumers, who are increasingly attentive to sustainability and reducing their carbon footprint. Over 60% of consumers would like packaging that is easier to recycle and are willing to pay more and more for eco-sustainable products to produce less waste.
In terms of marketing and brand reputation, eco-sustainable packaging plays a key role. It happens more and more often that consumers select their favourite brands based on their packaging, especially the new generations; according to some statistics, over 48% of millennials act based on these considerations.
Fortunately, this new focus, and I would add a trend, is spurring companies and brands to do more and opening new horizons in the packaging and labelling sector.
Governments worldwide are also showing more significant commitment to achieving a more circular economy, creating incentives and new regulations on sustainability to reduce their carbon footprint and increase the recycling of packaging by 2030.
---
What is meant by eco-sustainable packaging?
Sustainable packaging is the type of packaging that aims to create the lowest possible environmental impact or which helps to reduce it, at least in part, while continuing to perform its protection and information functions in the best possible way.
Talking about green packaging means making broader reasoning because sustainability must affect every area of packaging creation, from design and materials used to logistics to disposal or recycling. Everything must start from the design; it is essential to be immediately attentive to the recyclability of the packaging; the entire process must aim to minimize the environmental impact. It is in this case that we talk about eco-design.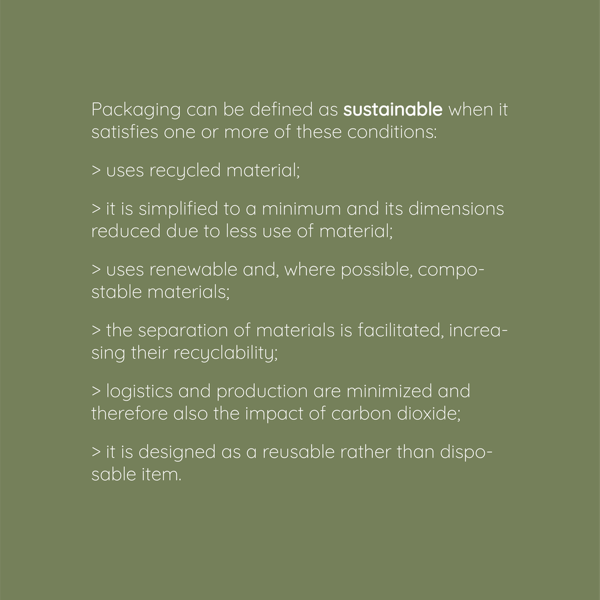 ---
How can a brand be more eco-friendly?
Working on the sustainability of your brand and developing sustainable packaging is essential. The change towards a lower environmental impact must become imperative for every company, whose commitment must be constant. There are several ways to take a greener approach and develop sustainable packaging: using recycled material and FSC® certified fibres, rather than transforming waste into a resource, can be a good starting point.
But be careful. It often happens to find products labelled as "green", which, unfortunately, are not always so. In these cases, we talk about greenwashing, or a sort of deception. Some companies want to define themselves as sustainable when just a mere marketing effort.
If you want to know more, we have prepared a dedicated article, and find it here.
---
What does "recyclable" mean?
The term "recyclable" indicates the characteristic of some materials reinserted into the production cycle to be transformed back into raw material through physicochemical and mechanical processes. To be considered such, a product must be collected, divided by type, processed and then applied.
As far as packaging and labels are concerned, there are different degrees of recycling, and each specific material has a different recycling potential. Let's see how to distinguish them:
1. Low-quality recycling (downcycling): the packaging is recycled and transformed into fibres of lesser importance, such as industrial ones.
2. Medium quality recycling: the packaging is recycled and transformed into fibres, not food use.
3. High-quality recycling or refurbishment: the packaging is recycled to become packaging again.
---
Sustainable initiatives and services
Many suppliers of packaging and labelling papers and materials also offer various services to help recycle media waste. an example is UPM Raflatac with RafCycle, which gives new life to self-adhesive label waste by transforming it into paper or magazine paper supports) or the Avery Dennison project in collaboration with Romei Replastics to convert waste materials deriving from labelling in new raw materials.
---
At this point, you will surely have understood the importance of choosing sustainable packaging for your products and your brand. For us printers and designers, however, it is also essential to find the right balance between sustainability and the high performance of the materials. For this reason, we are constantly looking for new and innovative materials that allow us to create eco-friendly and quality packaging, able to best perform their primary function of protecting the product. Thanks to the efforts of many suppliers and companies, this is fortunately possible today.
I hope this article has been of help to you. It has intrigued you at least a little about the infinite possibilities of sustainable packaging. It has convinced you of the importance of taking your brand towards a greener and more respectful path to the surrounding world!
---