How to choose the right paper fro your wine label?

The choice of paper for your wine label starts from the idea that your brand or company wants to express to the consumer. Today I am pleased to be your living sample of materials for your wine labels and to allow you to make a conscious, qualitative and sustainable choice.
Natural, Laid and Embossed Papers
When we talk about these papers for wine labels, we are talking about the first choice; these papers express quality and luxury and therefore remain perfect for telling your bottle of wine. Natural papers are generally characterized by a great porosity and a rough feel to the touch.
The colours on these papers are absorbed, appearing slightly more discharged by comparing them to printing the same colours on coated or metallic papers. Pantone Uncoated should be referred to when choosing colours to print on natural, blanked or embossed wine label papers.
These papers lend themselves to being worked regarding the processing or the final touch such as foil, relief, and screen printing. We recommend this, especially for those natural papers with a great thickness (example: Cotton Paper), embossing and debossing.
If you want to polish some elements to highlight them, it is advisable to do it in screen printing, as other flat offset and flexo varnishes tend to be absorbed too much.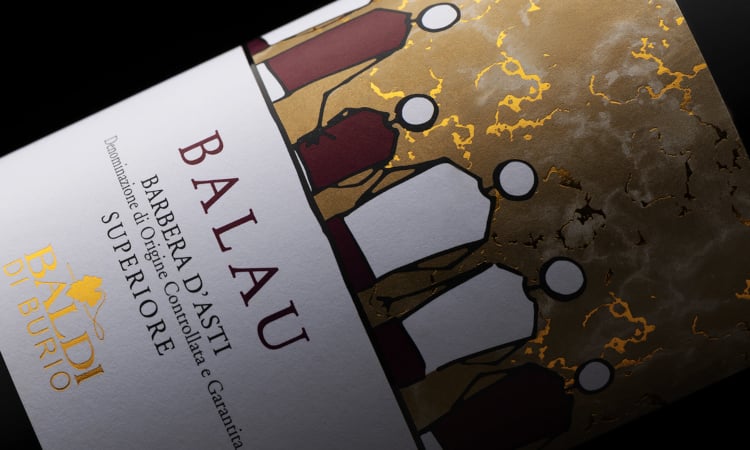 Coated papers for wine labels are a classic choice, and they are mainly chosen when you want to intensify the colours as much as possible, especially when the theme of the label is a four-colour image.
These papers for wine labels are also chosen for their competitive price. The colours of these papers can be chosen from the Pantone Coated Colorbook.
These papers are perfect for wine back labels as their smooth planar surface allows excellent overprinting of data such as the lot, both for inkjet and thermal transfer printing. If you have one of these printers for retro labels available at home, it is always advisable to do a test at home to check the overprinting on the various papers.
You can do all the finishing processes mentioned above; debossing and embossing are not recommended, especially since many of these papers are very thin.
Pearly papers for wine labels are an interesting alternative to enrich wine labels. Over the years, they have become an excellent choice for wines such as sparkling wines; this is because their "glittery" and brilliant effect goes very well with the enthusiasm of the wine inside the bottle.
These papers can be both glossy and matte, so the choice of colours can be made on both Pantone Coated (for glossy) and Uncoated (for a matte) Color books.
Pearly papers retain their lustre and glitter effect if not covered by too much ink; therefore, it is advisable to leave out too dark backgrounds that would obscure the desired pearly effect.
This type of paper can also be worked with hot foil and silk-screen printing or matte varnishes and spot gloss varnishes to highlight some details. Some of these papers may be embossed and embossed. Still, at that point, we recommend choosing a paper that already has an embossing texture, such as the Jade Raster paper or the Starlight from the Arconvert - Ritrama group.
A silvery or golden metallic effect characterizes metallic papers; there are both glossy and opaque and are the best choice for embellishing a label.
It is advisable to always start with a silver metallic paper; the colours printed on this type of paper for wine labels tend to metallize themselves. Therefore it will be possible to obtain a gold, copper, platinum colour etc.
It is difficult to choose a Pantone colour to reproduce faithfully on these papers, so my advice is to do a print test on metallic paper with various Pantone colours close to the one chosen so that you can visually observe how the colour behaves on the metallic substrate.
We do not recommend hot foil at the level of processing as we can already simulate it on this substrate, while highly opaque varnishes, glossy screen printing, and spot varnishes are the best choices.
Papers with anti-pulping treatment
All the previous papers for wine labels also exist in their " Anti-pulp" form. By anti-pulping treatment, I mean all those papers to which a treatment has been added that allows greater resistance to humidity and to the refrigerator. If you want to solve those annoying wrinkles in wine exposed to humidity in a cellar or the customers' refrigerator, always choose papers with this characteristic.
If, on the other hand, your interest is in having an ice bucket resistant paper, we recommend it no subsequent papers, that is, the "Barrier Papers."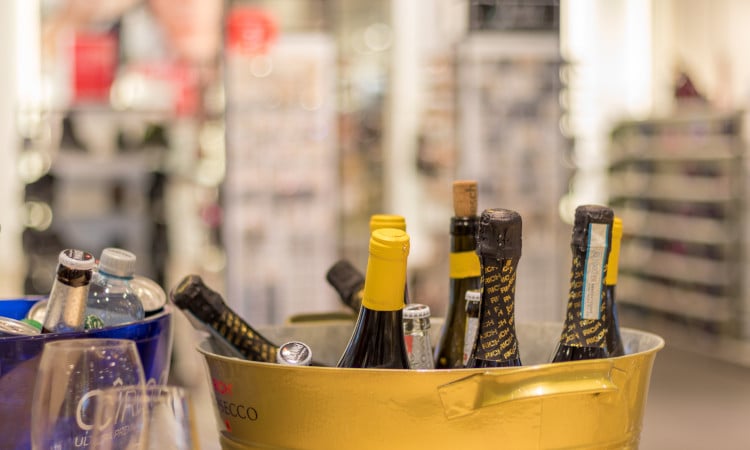 All of the above papers also exist in their " Barrier" form. With barrier paper, we mean all those papers with a plastic barrier under their surface (basically 20 microns of polythene) which guarantees them a superior rigidity and resistance to the fridge and Bucket.
These papers are your primary choice if your product is sparkling wine or rosé and needs to end up in the Bucket without the label coming off after a few minutes.
Sustainable Papers and Ecological Papers
In recent years, the theme of sustainability has moved several paper mills to produce new materials that follow sustainability.
Some papers support the non-felling of trees; among these, there are papers produced with fibres from cellulose fibres from sugar cane and from flax, hemp and cotton fibres.
UPM Raflatac produced one of the first 100% papers made from recycled paper. Some materials do not use cellulose at all, such as stone paper; these materials tend to be produced from waste powders from marble and stone processing, but are still coagulated together with some percentages of PET plastic for the moment, we wait a moment longer before proposing them as a sustainable solution, some companies are working on a system for keeping them together with other materials.
Adhesives, Permanent and Removable
Speaking of adhesive reel labels for wine, we must mention the adhesive; permanent adhesives are usually chosen, guaranteeing perfect adhesion to the glass of the wine label.
Sometimes it can be useful to have removable labels, for example, to recover the glass or for sustainability reasons.
There are various types of removable stickers; one of the most frequently used is an adhesive that, once immersed in hot water, tends to dissolve and allows you to easily remove the wine label from the bottle. If you want to know more about removable wine labels read our article
here
.
However, this adhesive still allows the bottle to be resistant to cold water and the fridge if papers with anti-pulp treatment or barrier papers have been chosen; only hot water will remove the label from the bottle.
I hope this guide on how to choose the paper for a wine label has come in handy; if you need to touch the materials, you can always request our sample of labels or make a request, and we will be able to recommend the most suitable material for your wine!
---