6 tips to package your cosmetic product

Creating your own cosmetic brand is an exciting undertaking. You can prioritize what matters to you in cosmetic products and develop a meaningful brand identity that reflects your values. When you start planning your brand's product portfolio, one of the most important decisions you make is the type and style of cosmetic packaging and labelling you will use. There are several factors to consider while you are considering your cosmetic packaging. In this guide, we'll walk you through every aspect and give you a list of the best materials to use for your cosmetic packaging.
6 tips for the perfect cosmetic packaging
In this simple guide we will cover different aspects of selecting the correct materials, design and utility that a cosmetic packaging needs to have, regarding both adhesive labels and boxes.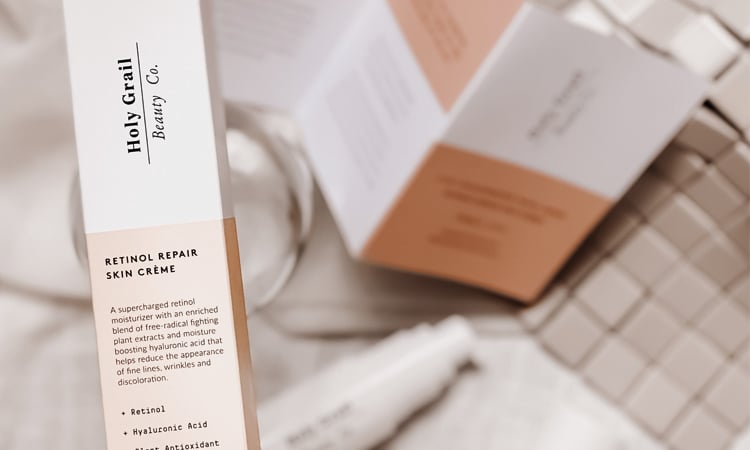 1. Branding
Branding is your packaging's business card, you need to reflect your company's brand into your cosmetic packaging to make a memorable experience with your customers.
2. Ability to resist acidic contents
Some cosmetics, especially those with fruit extracts, can have high levels of acid, causing corrosion of some containers such as metal cans. If metal cans are not coated with a protective barrier, they can quickly degrade, damaging both the container and the contents. Glass or polyethylene terephthalate (PET) materials are generally the best choice for these cosmetic packaging.
3. Light blocking capability
Some cosmetic products are highly sensitive to light. The more light they are exposed, the faster they break. Essential oils are a great example. These products need to be protected from sunlight to stay fresh. If your cosmetic products require light blocking, look for colored or non-translucent cosmetic packaging options.
4. Eco-compatibility
There has been a lot of media coverage about the role plastic plays in polluting the world's oceans and overwhelming our landfills. Eco-friendly cosmetic packaging is an excellent option if you are open to thinking outside the box. Look for cosmetic packaging options that are recyclable, biodegradable, or that can be easily refilled.
5. Water Resistance
Some cosmetic products are disposable, but most of them will be used many times, cream and perfumes usually end up in bathrooms and the packaging will be put into situations of wet, cold and hot water. Considering a wet-resistant or waterproof labels and packaging for your cosmetics is the way to go.
6. Choose the right materials for your cosmetic product's labels and packaging
Regarding labels the most cost-effective and resistant solution will be to go for polypropylene; you can decide whether you want a see-through clear adhesive label (clear or transparent polypropylene) or a regular white adhesive polypropylene (that comes both in the glossy and matte version).
You could make the cosmetic labels on coated paper and then laminate them so you will preserve the paper underneath from chemicals of the product and wet hands, but beware that mixing plastic and paper is a non-environmentally friendly solution. You could also use natural papers for a more natural look on the label, beware that these papers have less resistance to water.
Regarding boxes it is strongly advised to go for a coated or natural paper box (maybe 300-400gr of thickness); this is because compared to the label, the box is much more disposable since once brought home customers will usually discard it. You can enhance the look of the box with a metallic hot foil (perfect for the brand name or some textured details) or some embossing to give it a three-dimensional look.

---