Screen printing or hot foil: which one suits you best?

Screen printing is one of the oldest printing methods. It seems it was used already by Phoenicians and successively was widely used in the Japanese art but also in contemporary art: the famous Marylin Diptych by Andy Warhol was indeed made with this technique.
The hot foil or hot stamping boasts long history as well, with patents dating back to the beginning of the XIX century. Both ennoblements can enhance your labels with sophisticated effects: if you are thinking about giving an extra touch to your label, this guide will help you to find the best finishing for your needs!
Screen printing is realized with a silk-screen stretched over a frame and treated so that the ink can only pass through the areas where the image to print has been reproduced. To each colour corresponds a different frame. Hot foil or hot stamping is a process that transfer a metallic or neutral foil on a flat surface thanks to the combined action of pressure and heat. The application of these finishings can make the label truly unique. However, it is necessary taking into consideration some peculiarity to obtain a perfect result.
Screen Printing: the pros and cons
Screen printing makes it possible to apply even thick varnish layers guaranteeing high coverage even with peculiar colours such as white. Also, varnish thickness and lucidity create a lens effect that enhances the underlying colours: for these reasons, screen printing is the ideal to create glossy and 3D effects and therefore emphasizing some label's elements such as the name of the product or the logo.
If you'd like to choose screen printing, it is necessary taking into consideration that it is better to avoid 3D effects on both too small and too wide details: it is indeed difficult to reproduce small details on the frame while wide areas can make labelling hard. For the latter reason, it is not recommended to create too thick varnishing.
Finally, screen printing cannot reproduce colour shades and it is not recommended on elements that may differ from order to order – such as wines year – because this would mean create new frame every time and therefore greater costs.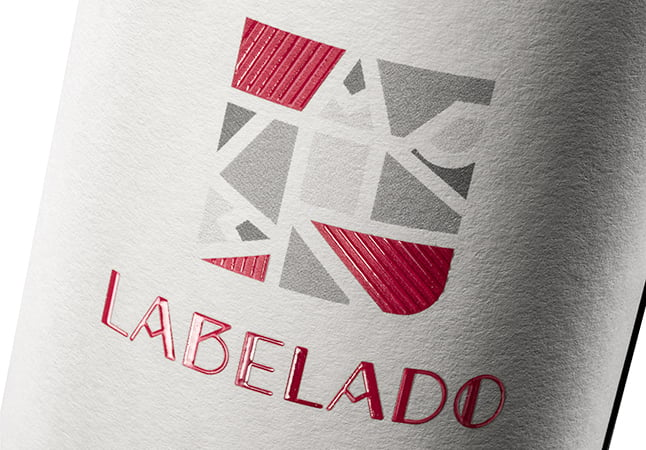 Hot foil: everything you need to know about
Hot foil allows the creation of sparkling, precise details thus enhancing colours in a charming way. It also allows a wide choice of colours and finishes. Since it uses universal colours code, hot stamping makes it possible to use on the label the same colours of other packaging elements such as the wine capsules or the carton box.
However, it is necessary to pay particular attention to readability: this ennoblement can indeed make it difficult to read the text and therefore it is better to apply it on non-textual items such as the logo or on short texts with simple fonts.
As in the case of screen printing, hot foil makes it impossible to create too small details and colour shades and its use is not recommended on variable elements since this would result into greater costs for the new machineries.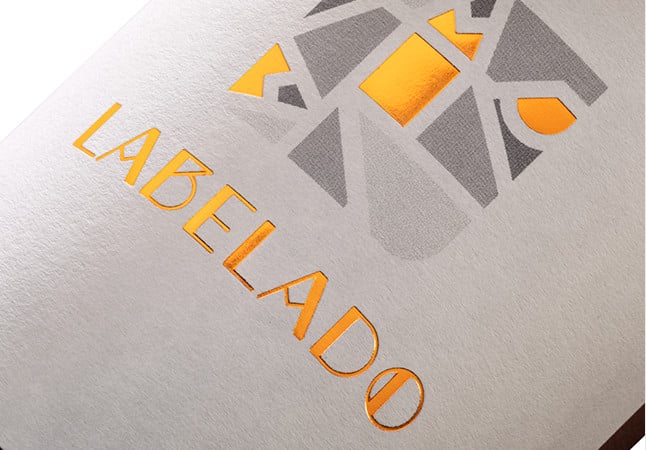 To every adh
esive label its ennoblements
Once the differences and the limits of these ennoblements are clear, the crucial question that must be answered is what we want to convey with our adhesive label. According to the effect we' d like to obtain, it will be easier to opt for one or the other.

Screen printing is highly recommended for those looking for very modern and minimal effects: innovative products for a young target, but also premium products characterized by a "less is more" elegance and precious details.

Because of the wide choice of colours and finish, hot printing makes it possible to obtain a range of different results: using foils like matte gold, copper or ducal gold, you'll obtain a classic and vintage effect, perfect for traditional products like fine wines and food preserves but also cosmetics with a retro taste. Using foil like matte silver or metal grey, the final effect will be really modern and glamour.
We hope these advices about screen printing and hot foil may help you creating the perfect label that can both grab customer's attention and add value to the product: in case you still have any doubt about the final result, don't hesitate to ask for advices to our graphic team.
---