Print proof: 11 good reasons to request one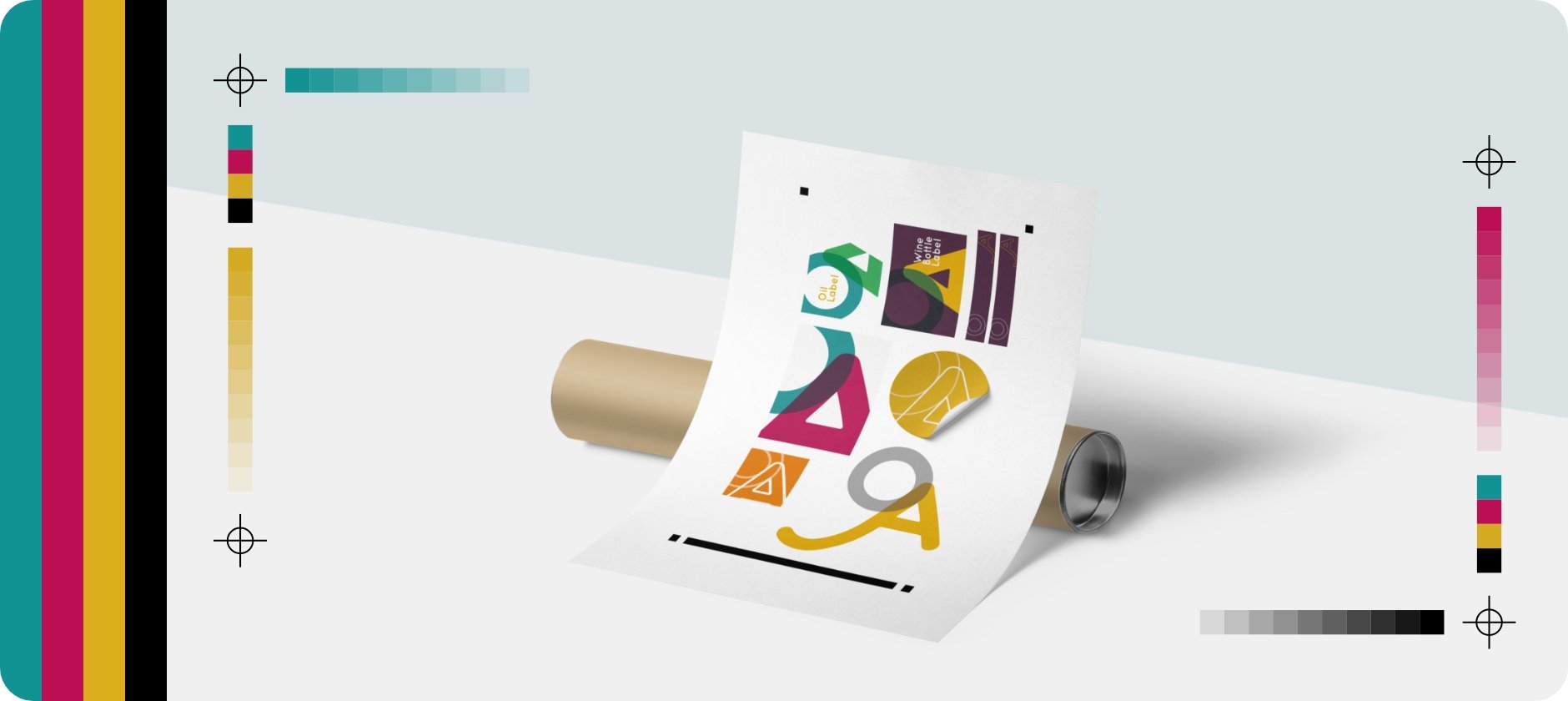 Nothing should be left to chance in communication and graphics, especially regarding to printing! So today, we tell you a story that happens more often than you might think, and that will change your mind about the need to do a
printing proof

.

You have created a beautiful label for your company, with attention to every aspect; you have made conscious choices on colours and fonts and inserted high-resolution images. Your design has been reviewed and approved, and you're ready to go to the press. The printer asks you if you want to do a printing proof, but partly because of haste and partly so as not to have other additional costs; the answer is no. So we go to press; after a few days, your labels are delivered. Result? The colours of the backgrounds and images are entirely different from the expected result, and the texts are too light and thin.

You will think there must have been a printing error; the file was incorrect. But, no, you didn't consider one thing: what you see on the monitor (or by printing it with the office printer) does not correspond to what will be printed.

Before proceeding with printing, it is essential to request a printing proof to ensure that what will be printed reflects what you had thought. Especially when you choose to print online, having the option to check the print quality is often helpful to avoid nasty surprises, especially when large print runs are expected. Thanks to the printing proof, it is possible to get an idea about the print quality of the printer, also allowing you to evaluate the final result of your design once printed.

Whether it's a brochure, magazine, business card, packaging or labels, any design that needs to be printed would need printing proof. It is by no means evident that the print result faithfully reflects a graphic project that has only been viewed on the screen. In short, the printing proof lets you see the product's appearance before proceeding with the final print.
Now let's see together step by step what a printing proof is and what it is for. Thanks to this article, you will better understand many small details, which may seem only technical at first glance, but we assure you make the difference. Here are the points we will cover:
What should be checked with the test print?
Printing proof: all the advantages
How to order printing proof on Oppaca?
Printing proofs and draft approvals: are they the same thing?
What is printing proof?
A printing proof is an accurate simulation of printing, which allows us to see the final result; in short, a means that allows us to see the effect that our design will have when printed, which until then, we have only seen on video, in a digital format. It is, therefore, a physical print, a paper draft, which is very close to the aspect that the finished product will have and helps us understand if our printed piece is correct. The printing proof lets the customer see and feel the print before it goes to production.
To give you an example, if you are ordering a brochure for your company; the printing proof, in this case, will be a copy of that brochure, although it probably won't be cut and folded yet. Instead, you'll see it as it comes off the press, with the ink colours and the design all laid out. The same applies to packaging, except adhesive labels, for which the printing proof is even more accurate. In fact, on the Oppaca website, as far as adhesive labels are concerned, it is possible to obtain a printing proof, which also simulates cutting or die-cutting and some processes, such as hot foil and screen printing varnish.

Why request a proof print?
A printing proof is highly recommended for first-time printers or those with specific colour requirements. Overall, physical proofs are the only way to get a much more accurate feel for how colour translates to print. It allows you to see the colour rendering in advance and calibrate and verify images, texts or other design elements; in short, we can say that a printing proof is a guarantee for the customer.
Requesting a printing proof means having greater security and ensuring that future production does not reserve nasty surprises. This is especially true for large productions, where the eventuality of having to reprint everything due to an error or an unwanted result would involve a big blow in terms of costs.
In print, often, the colours don't come out as you imagined them on screen, and this is your opportunity to make adjustments and tweaks to the design. For example, suppose you have a company logo of well-defined colours. In that case, printing proof helps you understand if those translated into print by the typography on paper reflect those of your logo. Remember that the same colour can also vary according to the support: paper, plexiglass, glass or others; not that a red turns yellow, but it can take on a different shade. It may also happen that the chosen support does not reflect the desired final effect; thanks to the printing proof, you can verify it or do more tests on different materials to find the right one.

The printing proof provided by the typography allows you to evaluate all these factors; it is essential to check it carefully because the approved model will essentially become the colour reference guide on which the printer will base himself to create mass-produced products. The goal is that the final print is exactly how you want it, and the printing proof plays a fundamental role in this. Later in the article, we will see all the advantages explained individually.
How is a printed proof made?
At Oppaca, we print your printing proof with the same professional machines, which will then be used in production; the printing proof, therefore, is faithful to the product you will order in terms of colour rendition and other details. Furthermore, your printing proof is made on your chosen material, allowing you to verify the print quality and yield of the chosen support.

What should be checked with the test print?
Here, let's see some points to consider when you have printing proof.
Colours. Are the colours as you thought them? As mentioned in our print colour guide for designers, monitors and print use two different colour models. The monitor is based on an RGB colour profile while printing on the CMYK one; these two methods do not work in the same way, which is why when you go from digital to print, you have to consider the fact that the colours change in the conversion.
If you want to learn more, I'll link the article here.
Image resolution/sharpness. Are your images all high resolution? Images in the printing proof should be clear and sharp; if not, it means that your image is probably low resolution or has been enlarged too much.
Need a quick refresher on image resolution? You can find our article here.
Colour rendition on the chosen paper type. The objective of the printing proof is that it is also carried out on the same paper on which the actual production will be made to verify the colour yield on that type of paper. You must know that each paper reacts differently to printing: natural marked papers, and therefore uncoated, tend to absorb the ink more, and in this case, the colours tend to spread slightly, while with coated papers, this does not happen and this allows you to have a better rendering of the details. In any case, you can verify this from the printing proof.
Bleed and safe margin. Look for any white space near the edges of your printout, where images or colours should be at the edge bleed. Finding something out of place means that images and colours have not been enlarged correctly. Bleed means extending the background colour, graphic or picture beyond the edges of the cutting die on each side of the label. When sufficient, the bleed ensures that the entire background is printed and not cut during production. Another thing, check that the texts are not too close to the edges and that the safe margin for cutting is respected.
If you need more information about it, find our article here
.
Dimension. Is your printing proof the right size? Holding the printed product in your hand also allows you to verify that the size and dimension are what you imagined for your work. When it comes to packaging or adhesive labels, our advice is to make sure that the printout is 100% suitable for the product, especially in the case of adhesive labels. Try sticking the test print of the label directly on the product to which it will be applied later in production, to verify the correctness of the measurement.
Correctness of contents. Are there any typos or grammatical errors? Double-check all the contents of your printing proof. Trust me, once it goes into production, you'll be glad you did. Correcting errors on a draft is much less expensive than reprinting all the work because of a typo.
Rendering of texts and fonts. Are the fonts the same as your original design? How do fonts render in print? Sometimes the typography you rely on can have a different type pack from yours. Many fonts are available online; even fonts with the same name can look different and have different weights or widths. There is a risk, especially when you choose too thin fonts and use light colours for text, such as grey. In this, printing proof is beneficial! Our advice is always to convert all text into paths; in doing so, the text remains unchanged, and these minor inconveniences can be avoided.
Want to learn more about converting text to paths for print? We talked about it here.

Printing proof: all the advantages
Find errors in your file. Graphic files are digital items that tend to be edited and reviewed by multiple people before final printing. Therefore, when working with various hands, it is possible to run into typos in the design phase: a visible element that should not have appeared rather than a layer that magically disappears in the printing phase. A printing proof will allow you to immediately see if there are any missing elements, rather than hard-to-read text, and correct everything before going into production.
Choose a suitable material. To proceed with your printing proof, you will need to choose the fabric to make it. Don't know which material to choose and want to see the difference between matt-coated and natural paper? Well, this is the right time to clear your doubts. When ordering, you can select one or more materials; you will thus be able to test them and understand which one is right for you before going to press with significant production.
View the colours and find the right combinations. The other advantage of printing proof is that you have a colour proof on hand, which allows you to check how the colours you have chosen will result in the final print. Printing proof is also the time to experiment by testing different colour combinations to find the one that best suits your needs and those of your product.
Printing proof is also particularly suitable when there is a background colour in the label or packaging design. For example, a bottom is an essential element within a graphic, and often there is doubt as to how it will come out; well, in the test, you will be able to verify it, trying different shades of that colour to find the right one.
Test the extra embellishment. [On Oppaca, valid only for adhesive labels] Even if you choose additional processing, thanks to the printing proof, it will be possible to view the result. For example, you will be able to see the various effects of hot foil rather than experimenting more by placing it in different parts of the label to choose the most suitable solution. The same goes for screen printing varnish. However, not all the other processes are available in the test printing proof.
Do you want to try some embellishments on your label? Please write to us for more information.
How to order printing proof on Oppaca?
Printing proof is available on the Oppaca website and can be ordered just like all the other products. You can choose between printing proof for adhesive labels, boxes, doypacks and bags. When ordering, a brief guide to materials is also available, in which to learn more about the characteristics of each support to choose the one that best suits your needs.
How to order it? Very simple. Once you have selected the type of printing proof, the characteristics it must have and the support, rather than any enhancements, you need to upload your design, add the printing proof to your cart, and conclude the order.
It is also possible to evaluate the yield of several graphics: up to 5 graphic subjects can be inserted into the same file. Furthermore, only with printing proof of the adhesive labels, the die-cutting, the cutting, and finishing touches are also reproduced.
Printing proofs and draft approvals: are they the same thing?
Sometimes all these technical terms can be confused, and printing proof can be confused with an approval draft, but they are two different things. The customer requests the printing proof to evaluate the print; the approval draft is instead created and sent by the default printer to proceed with the job as a sort of "contract" between printer and customer.
The approval draft is digital, therefore not printed, which is sent by the printer to the customer; it is where the first stage of proofreading begins and allows reviewers to review the design and point out any differences between the client's original file and the press executive draft. This is a proof sheet for you to sign, detailing your responsibility for reviewing and approving or making changes to the proof. After receiving the approval and, therefore, the signature from the customer, the printer will proceed with production.
Proofing is a vital part of the printing process. Take the time to double-check everything carefully because after the typography draft has been approved, the next stage will be printing, and there will be no turning back. Proofs are your last chance to review and make corrections before your work goes to print, so use them carefully.
Moreover, press approval proofs are created to ensure that the client and printer agree on the desired result before going into production.
In short, what can I say? Printing proof is essential, especially if you are creating a new product that has never been printed before or if you have a large production ahead of you that will be carried out on a large scale. Therefore, to request a printing proof and resolve all your doubts, leave in the best and safest way!
The Oppaca team will be happy to advise you on the most suitable way to create your printing proof; we'll assist you every step of the way, from proofing to printing and oh, of course, advice is free!
We are waiting for you! 🙂
---