How to ennoble and embellish your wine boxes?

Are you planning to create a custom wine box design? It's fantastic! But looking at it, it seems that something is missing. Does your wine box still seem a bit ... boring? When you ask a professional graphic designer to design your wine box, or maybe you are the designer, it is very difficult to imagine the final result based on a digital file. Today we will talk about how to ennoble and enrich your wine box in order to make it more eye-catching! In this way, your personalized wine boxes will attract the eye of your end customer and guarantee a positive opinion on your product.
I have already written a blog on applied Neuromarketing and the function of colors in packaging, read it
here
😊! The most immediate advice I can give you is to create contrast. Although you have chosen a base color that will be the background of your
wine box
, it is important to find complementary and contrasting colours to make the essential elements of your
wine box
stand out, such as the company name, the variety of wine etc.
If you have chosen to print the
personalized wine box
on a coated paper you will get some brilliant colors, to be chosen absolutely from the Pantone Coated book. To know the difference between Pantone Coated and Uncoated read our article
here
.
If the chosen paper is metallic you can indulge yourself with various shades of yellow and orange, which will result in gold and copper! Another highly recommended option in an era in which the consumer is attentive to the corporate vision of sustainability is the choice of a personalized wine box on natural paper.
If you have fallen back on this more eco-friendly choice, we recommend that you leave room for the texture of the paper by leaving it in a natural color or possibly by printing light beige or cream backgrounds in order to preserve the natural effect of the paper.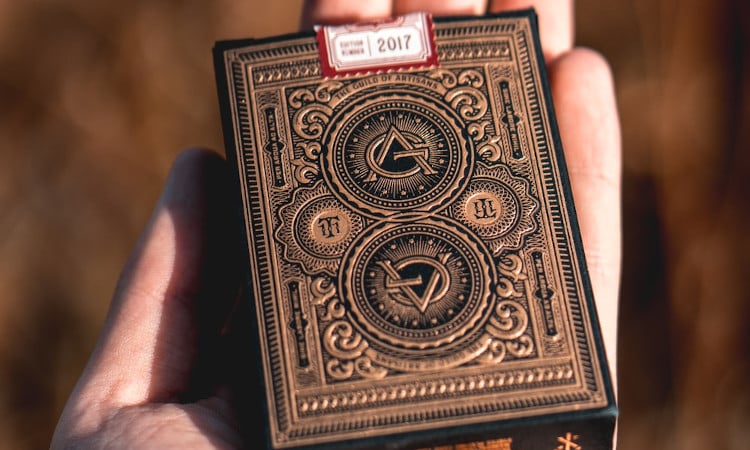 You know those metallic elements that you can find on numerous wine boxes? This is hot foil, one of the noblest processes that can be chosen.
The hot foil is perfect for printing logos, titles and other elements of our personalized wine box.
However, the hot foil can present complications during the execution phase. Since it is a metallized support that is transferred through hot stamping throught a metal cliché (generally magnesium or brass), it can be complicated to manage especially during the design phase. It is always worth asking for technical advice. For this reason you can write to us for free and send us your file indicating where you would like to print the hot foil and we will be happy to advise you how to make it perfect!
The choice of hot foil color is made based on existing foils that can be found in the foil suppliers' samples, such as the Luxor Alufin sample book from Kurz. From gold to silver, from copper to red foil, care must be taken to choose a color that is suitable for your wine box and matches the other printed elements. You can choose both glossy and opaque foils, remembering however that the glossy foil reflects much more light than the opaque one. Personally, I do not recommend using it on elements such as texts, because depending on how the light falls, they could become unreadable.
Not sure which foil to choose? If you are interested we can print a mockup of a single wine box, at very advantageous prices and without the cost of the punch. This way you will be able to see the simulated foil on your wine box and avoid printing hundreds of wine boxes before you have made a final choice!
The embossing is an incredible element of ennobling, highly recommended for embellishing your wine boxes.
This process is also done with magnesium or brass punches. The only difference is that this system is composed of a "male" and a "female" which will press our embossed element onto the paper.
Unlike adhesive labels, which for technical reasons cannot have important embossing (this is because the effectiveness of the adhesive would be removed at the point where the impression is present, and bubbles would be created in the label), dry embossing in the production of customized wine boxes it gives us more freedom to obtain interesting results.
Although the dry embossing can be done on any element of our packaging, in my opinion a nice effect is to create textures on the paper and then use the embossing in non-printed areas; remember that being an embossing of the paper, the dry embossing will allow you to create pleasant shadow effects without having to print other elements with ink.
You can also emboss the same elements of the hot foil and embellish your wine box with elements that will look like real jewels set in the paper!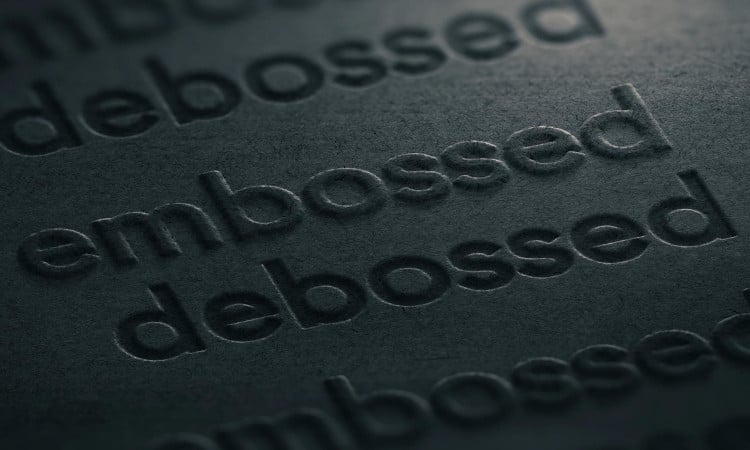 If, on the other hand, you prefer to create contrasts, the best solution is to use selective varnishes. The advice is to always create contrast. Therefore you could create opaque effects on the background and some selected elements on which to make a glossy Drip-Off varnish.
This is ideal for embellishing frames and central elements on our wine box; the only advice is to be careful not to print this varnish "in negative", in the sense of highlighting light elements on dark backgrounds, but try to do the opposite. In fact, a glossy white varnished element on a black background will be less visible than a glossy black varnished element on a white background.
This is just a taste of all the finishings that can be done on your personalized wine box. It is always useful to discuss with a packaging expert! I remain available for free advice in case you are interested, so we will find together the best way to ennoble and at the same time save money while embellishing your personalized wine boxes!
---